Ashlee, The Crunchy Moose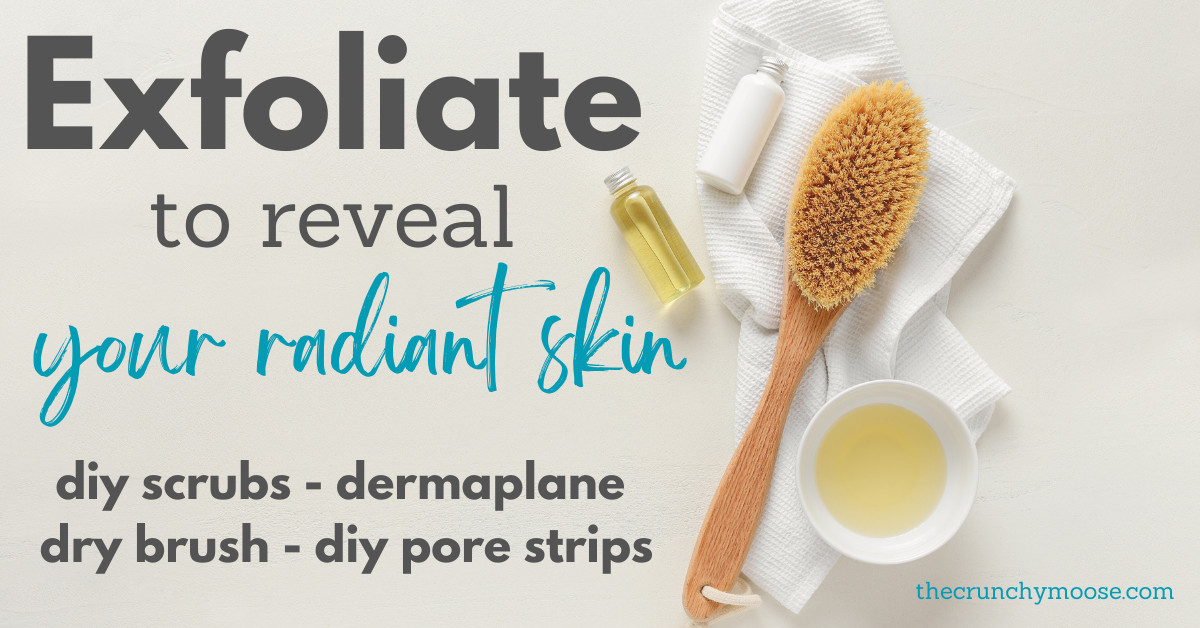 Have you ever wished for flawless skin that radiates natural beauty? Me, too! It's time to unlock the secret to achieving your beauty potential: exfoliation.
Exfoliating promotes cell turnover, unclogs pores, and reveals your brighter, more radiant skin hiding underneath dead skin cells.
And I have good news! You don't have to pay for professional chemical peels to have great results at home!
Why Exfoliation is Essential for Beautiful Skin
Benefits of exfoliating include:
Removing dead skin cells, promoting cell turnover, & improving circulation:

Throughout the day, our skin accumulates a layer of dead cells on its surface, which can make it look dull and lackluster. By exfoliating regularly, we slough off this buildup, allowing fresh, new skin to emerge.
Exfoliating also stimulates cell renewal, encouraging the production of fresh, new skin cells.
Unclogging pores:

When dead skin cells, dirt, and oil accumulate on the surface of our skin, they can block our pores, leading to breakouts and blemishes. Exfoliating removes these impurities, preventing buildup, and reducing the likelihood of clogged pores.
Smoother, more even, more vibrant complexion

Exfoliating not only brightens our complexion but also helps to minimize the appearance of fine lines, wrinkles, and uneven texture, leaving our skin looking smoother and more youthful.
Exfoliating improves our skin's texture, minimizes the appearance of scars and hyperpigmentation, and promotes a more even skin tone.
Exfoliating also allows other skincare products, such as serums and moisturizers, to penetrate deeper and work more effectively.
How Often Should I Exfoliate?
How often you should exfoliate for optimal results will depend on your skin type, age, and skin condition.
Too much exfoliation may damage the new skin you just revealed.
Being too rough with your exfoliation methods could damage or irritate your skin.
The older we get, the more cell turnover declines and more frequent exfoliation may be beneficial.
For most people, exfoliating 1-3 times per week provides the best results.
My Favorite Natural, At-Home Exfoliation Techniques
There are many commercial and professional exfoliation techniques and products. A lot of them contain chemicals and ingredients that are harmful. Many commercial products have plastic microbeads which are not good for the long term health of your skin. A lot of these techniques and products are also expensive.
Luckily, some of the best exfoliation techniques and products are natural, inexpensive, and you probably already have a lot of the ingredients and supplies!
DIY Pore Strips: Unclogging Pores at Home
Pore strips are thin adhesive sheets that adhere to your skin and, when peeled off, remove dirt, oil, and other impurities from your pores. Commercial pore strips are made with synthetic ingredients that can leave a sticky residue and dry out your skin. Also, they can get expensive if you use them regularly.
Dermaplaning: A Professional-Level Exfoliation Technique
Ladies, that peach fuzz on our face is awkard, amiright?? It cakes up our makeup, gives us a five o'clock shadow in the wrong light, and gah, the older we get, the more peach fuzz we have! Introducing one of my favorite facials! This facial is done at home, inexpensive, quick, chemical-free, and easy.
DIY Facial Scrubs: Gentle Exfoliation for a Glowing Complexion
When it comes to exfoliating your face, there are plenty of natural ingredients that can be found right in your kitchen pantry. These DIY facial scrubs provide gentle exfoliation, allowing you to maintain a flawless complexion without harsh chemicals or expensive products.
And it's super fun! You can get creative and mix & match these ingredients to make your own custom scrubs. This is a create your own adventure experience!
Dry Brushing: Exfoliate and Rejuvenate Your Skin