Ashlee, The Crunchy Moose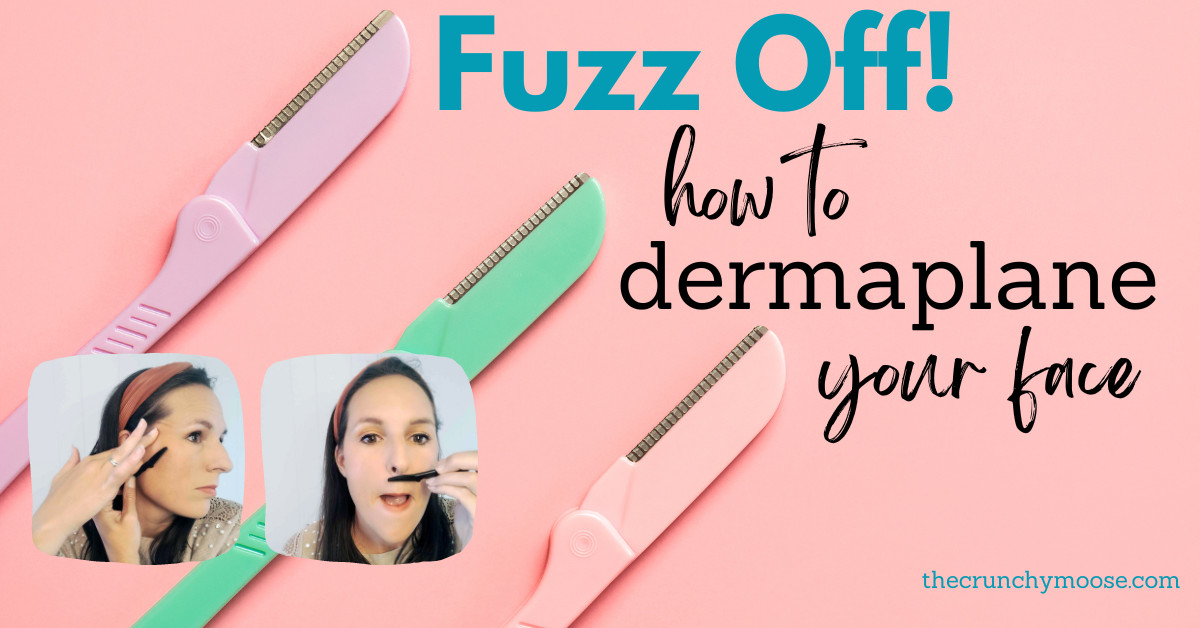 Ladies, that peach fuzz on our face is awkard, amiright?? It cakes up our makeup, gives us a five o'clock shadow in the wrong light, and gah, the older we get, the more peach fuzz we have! Introducing my new favorite facial! This facial is done at home, inexpensive, quick, chemical-free, and easy.
It's dermaplaning!
It's like a real life airbrush filter on my face! When I dermaplane, my skin is softer, smoother, & brighter and my makeup applies so much better
What is Dermaplaning?
Dermaplaning is a fancy way of saying "shaving the peach fuzz off my face." It gently removes dead skin cells and vellus (aka peach fuzz) from the surface of the skin using a sterile surgical blade /
dermaplaning tool
. This painless exfoliation method not only leaves your skin looking and feeling smoother but also enhances product absorption and promotes a healthier complexion.
How to Dermaplane
Grab a dermaplaning tool.
Wash and dry your face. You don't want any products on your face and make sure your face is completely dry. If your face is moist, it will be more difficult to exfoliate and remove the peach fuzz.
Hold the dermaplaning tool at a 45-degree angle and pull your skin taut. Gently apply light pressure against your skin with the dermaplaning tool. Using short and gentle strokes, move the blade in an downward motion on your cheeks, forehead, chin, and neck.
Take extra care around delicate areas such as the eyebrows, nose, and lips.
Avoid any active acne, inflamed, or irritated areas.
Repeat the process until you have covered the desired areas. Remember to clean the blade periodically to remove any buildup of dead skin cells and peach fuzz.
Wash your face to remove any debris, bacteria, and hair.
The whole process takes less than 5 minutes.
FAQ & Troubleshoot
Will my hair grow back thicker and darker?

Nope. There is no evidence of this and that has not been my experience -- at least for vellus hair / peach fuzz.
If you are removing thicker hair, it's possible you will have stubble when it grows back. Dermaplaning is not recommended for thicker hair.
Should I dermaplane with the grain (downward motion) or against the grain (upward motion)?

That's a personal preference but most prefer to dermaplane in a downward motion with the grain.
How often should I dermaplane?

That's a personal preference. For most people, 1-4 times a month.
Why is my skin itchy or sensitive afterwards?

It shouldn't be. It's possible your skin was wet or had products on it. Or your skin was irritated and shouldn't be dermaplaned at this time. Or possibly you were too aggressive with your your dermaplaning.
To ease irritation or itchiness, wash and moisturize your face and apply an ice pack or cold wash cloth if desired.
Can I use products and wear makeup after dermaplaning?

Yes. After dermaplaning, your skin will absorb products better and your makeup will go on smoother. because of the hair removal & exfoliation
Note: If you do have irritations after applying products after dermaplaning, it could be a reaction to the products you are using. Since your skin absorbs products better after dermaplaning, you could be more sensitive to certain ingredients.
Can I dermaplane over acne, dry skin, eczema, rosacea, or irritated skin?
Can I use the razor I use for my legs and armpits?

Nope. You need a dermaplaning tool because it's more gentle on your delicate skin and it's smaller so it can follow the curves or your face & get into nooks & crannies the large razor can't.
Can I dermaplane my eyebrows?
Pin this article to save it for later!