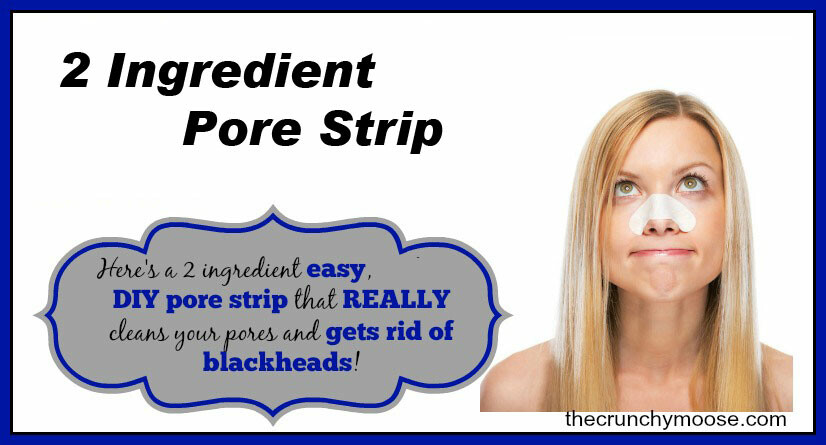 Pore strips are an effective way to get rid of blackheads and you can make them with just 2 ingredients! Sticky pore strips are designed to pull out dirt, unclog pores, and exfoliate dead skin cells.
Commercial pore strips are made with synthetic ingredients that can leave a sticky residue and dry out your skin. Also, they can get expensive if you use them regularly.
These homemade pore strips work great, moisturize your skin, have just 2 natural ingredients, and are very budget friendly! Winning all around!
Benefits of the Ingredients
The 2 ingredients are yogurt or kefir and
gelatin
. Here are some of the benefits for using them topically on your skin:
Yogurt or kefir:

Contains probiotics that may prevent acne causing bacteria and reduce inflammation
Moisturizing
Contains lactic acid that soothes, nourishes, evens skin tone, and tightens
Contains a lot of minerals & vitamins that are great for skin including zinc, calcium, vitamins A, B, & E, potassium, and magnesium
Learn how to make kefir here and learn about probiotics here
You can substitute dairy milk however you won't get the added benefits from probiotics

Gelatin:

Contains collagen that can promote skin elasticity, firmness, and tightness
Contains protein and amino acids that are good for skin
Use a high quality gelatin to maximize your benefits. I like this one.

Bonus optional ingredients: Essential Oils
DIY Pore Strips Recipe & Instructions
Combine 1 tablespoon each kefir or yogurt and gelatin in a pot
Heat on low until the gelatin is dissolved. Don't boil it or cook too long, just long enough to dissolve the gelatin.
Allow to cool enough to not burn your skin but don't cool enough that the gelatin gels
While it cools, wash and dry your face (I use these skincare products)
Add 3-5 drops of essential oils if using
Apply a thin layer to your forehead, chin, and nose

If it's too thick, add a small amount of kefir, yogurt, or milk. If the gelatin has gelled, reheat it.

Let sit on your skin for 10-15 minutes
Peel the strips off your skin
Wash and dry your face
Moisturize your face (I use these skincare products)

This site is for informational purposes only and is not intended to be medical advice. We hope this information motivates and empowers you to make your own wellness journey decisions based on your own research and partnership with your healthcare provider.
If you are pregnant, nursing, taking medication, or have a medical condition, consult a health professional prior to use. Information on this site should not replace or substitute professional medical advice, diagnosis, or treatment. The statements here have not been evaluated by the FDA. These products are not intended to diagnose, treat, cure, or prevent any disease.