Ashlee, The Crunchy Moose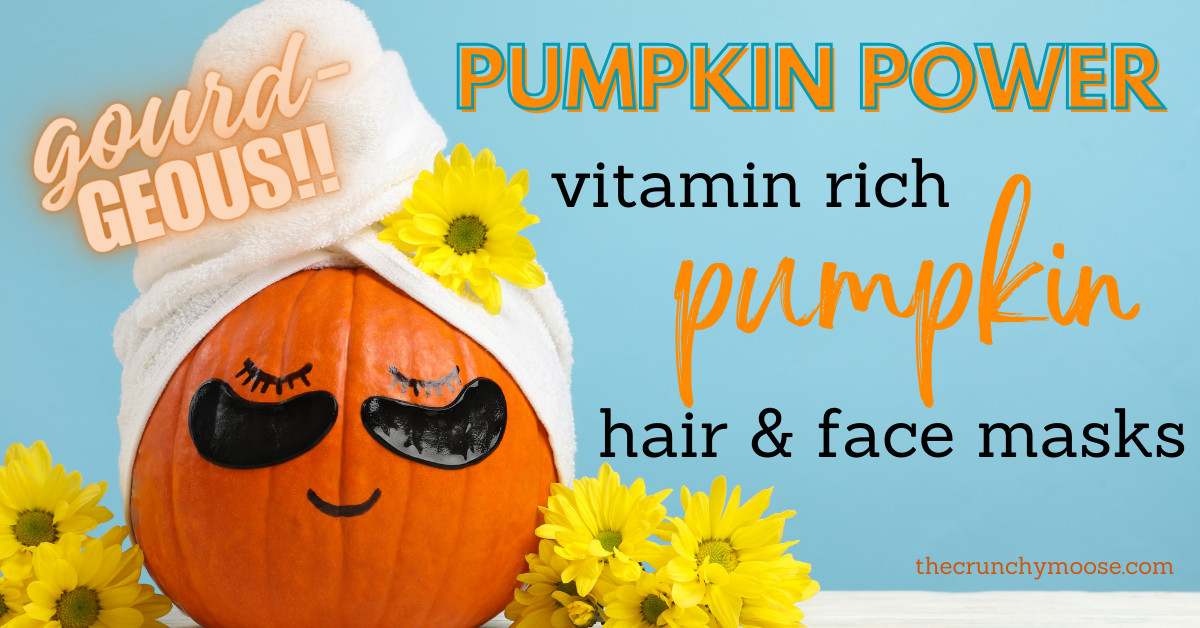 Do you dream of pumpkin spice all year long? Do you think pumpkin spice should be it's own food group?
Well guess what??!! Your hair & skin love pumpkins, too! Pumpkins are full of vitamins, minerals, antioxidants, and fatty acids that will soothe, moisturize, & heal. Get ready for a serious "gourd-geous" transformation!
Benefits of Pumpkins for Your Hair & Skin
Pumpkins are a skin super food and contain just about everything your hair & skin crave. Plus, pumpkins have a small molecular structure allowing it to penetrate the skin so you can soak up all that pumpkin power.
Nourishes & Moisturizes

Pumpkins are rich in vitamins A, C, and E, which help to nourish & hydrate the skin.
These vitamins also contribute to a healthy scalp and hair, reducing dryness & promoting overall moisture retention.
Brightens Complexion

The natural enzymes in pumpkins help to gently exfoliate skin, revealing a brighter & more radiant complexion.
It aids in removing dead skin cells, unclogging pores, & minimizing the appearance of blemishes & dark spots.
Anti-Aging Properties

Pumpkins are packed with antioxidants including beta-carotene & vitamin C which fight against free radicals & help to prevent premature aging.
Boosts Collagen Production

The high levels of vitamin A in pumpkin stimulate collagen production, leading to improved skin elasticity, reduced fine lines, & wrinkles.
Additionally, collagen promotes stronger & healthier hair growth.
Soothes Irritation:

Pumpkin possesses anti-inflammatory properties, making it effective in soothing and calming skin irritations, including acne, sunburns, and dry, itchy scalp conditions.
Promotes Smooth Skin:

The potassium, magnesium, & zinc found in pumpkins help regulate oil production & reduce acne & blemishes.
Hair Loss Prevention

Pumpkins are rich in essential fatty acids & plant sterols, which can help to promote hair growth & prevent hair loss.
It strengthens the hair follicles & reduces breakage, leading to thicker & stronger hair strands.
You can use either! Be sure your pumpkin doesn't have any additives or sugars. You want
100% pure pumpkin puree.
Do not use "pumpkin pie filling."
Pumpkin Masks for Hair & Skin
You can use these masks for your hair and/or skin.
Mix all the ingredients in the recipe, apply to your hair, scalp, face, and neck.

Adjust the quantities based on the amount of hair you have.

Let sit for 20 minutes.
Rinse.
Use your masks when you make them. Don't premake large batches.
Pumpkin Enzyme Mask - moisturize & tighten!
Pumpkin Exfoliating Mask - renew & glow!
Pumpkin Detoxing Mask - cleanse & protect!
Want More Pumpkin Power?
Consuming pumpkin will also give your hair and skin all the same benefits. Here are some ways to get more pumpkin into your diet year round:
Pin this article to save it for later!