Ashlee, The Crunchy Moose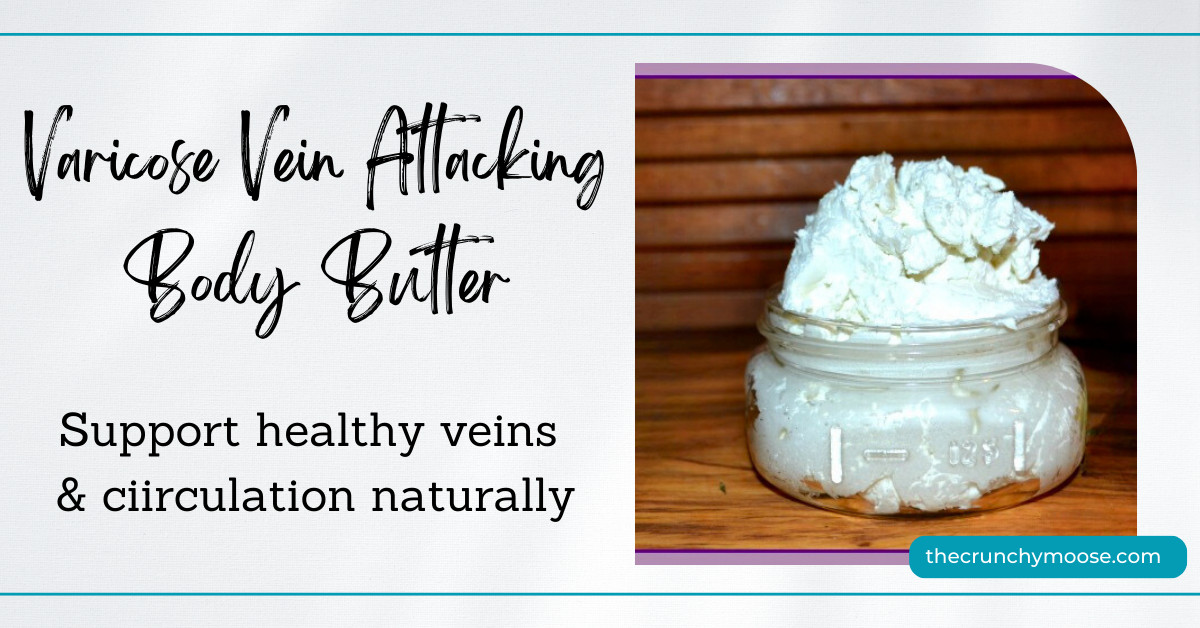 Yes, you can get rid of varicose veins naturally! No lasers needed. There are ways you can support blood flow, circulation, and healthy veins at home to prevent & reduce varicose veins.
What are Varicose Veins?
Varicose veins, although they can appear anywhere, are most common in our legs. Your legs pump blood against gravity to your heart. If there is added pressure on your legs or the veins, the blood flow slows down, causing build up. The veins then become twisted, large, and weak. And that's a varicose vein.
What Causes Varicose Veins?
Varicose veins happen when the veins and valves are weakened and/or have extra pressure. Some causes include:
Gaining weight (including pregnancy)
Blood clots
Injury or damage
Prolonged standing or sitting
Lack of exercise (gotta keep the blood flowing!)
Aging
Hormonal changes including menopause
Family history
Smoking because smoking harms the cardiovascular system which decreases blood flow
How to Prevent Varicose Veins Naturally
Of course it's best to not get varicose veins in the first place. Here are some ways to prevent varicose veins:
Use a dry body brush to improve lymph flow. Find a dry body brush here. Learn about dry body brushing here.
Don't cross your legs when you sit. Crossing your legs can put unwanted pressure against your veins.
Change positions regularly and don't sit or stand in one position for prolonged periods.
Sit with your feet elevated occasionally. One of the reasons we get varicose veins is because the veins are working so hard to fight gravity.
Eat anti-inflammatory foods including turmeric, ginger, blueberries, olive oil, broccoli, and kale. Inflammation reduces blood flow. Reduced blood flow leads to blood clots. Blood clots result in varicose veins.
Exercise regularly to promote blood flow and circulation.
Maintain a healthy weight.
Don't smoke.
Stay hydrated and drink plenty of water. I use this Berkey Filter.
We can be as healthy and active as possible...but some of these factors can't be avoided like hormonal changes (hello, menopause!) and aging. These tips may help prevent or slow down the process.
My Varicose Vein Story
Although I had a few spider veins prior to a back injury, I got 2 large varicose vein patches in my left leg from sciatic nerve damage. The veins then were then further stressed during my surgeries from IV medications.
Learn more about my back injury & surgeries here
. I followed these tips to reverse my varicose vein damage. The body butter and
dry body brushing
were effective and worked quickly.
Fast forward a couple years and my varicose veins came back during my pregnancy. So I pulled out my handy tricks and reversed the damage again!
Now I use these tips regularly for maintenance and prevention. My favorite tips that I use most regularly are:
Use this body butter
Dry body brush often. Learn how here.
Take the supplements listed below in the bonus tips.
Varicose Vein Attacking Body Butter
These ingredients in this body butter can help support healthy veins, blood flow, and circulation with antioxidants, vitamins, & minerals:
Ingredients:
Directions:
Heat shea butter and coconut oil in a double boiler on medium low. Stir until the oils melt, just a few minutes.
Remove from heat.
Add the jojoba oil, vitamin E liquid, and essential oils from the above list.
Refrigerate for about an hour or 2 until chilled. You want it to be almost solid.
Mix with a hand mixer for about 10 minutes until you have soft white peaks (like whip cream).
Store in a glass container.
Massage this towards your heart to encourage blood flow (i.e. start at your ankles and work up your legs; start at your wrists and work up towards your shoulders).
Your body butter is good for about 6 months. Store at room temperature. During hot weather, the body butter may slightly melt. You can store in the fridge if this happens (or if you just like a refreshingly cool body butter).
Note: This circulation boosting body butter will get your blood flow all worked up and can be stimulating! It can disrupt restful sleep so don't use at night.
Bonus Tips: Supplements
In addition to all the tips above, you can add supplements that support a healthy heart and circulation. These are my favorites:
Pin this article to save it for later!
Also check out: