Ashlee, The Crunchy Moose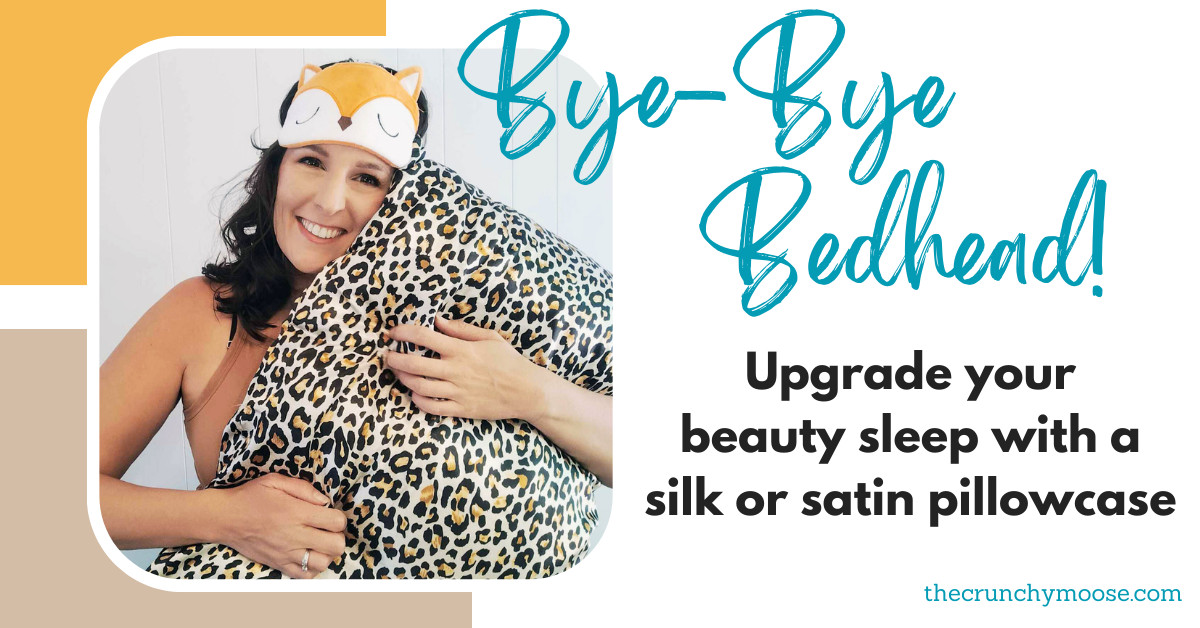 Beauty sleep is not a myth. It's a scientifically proven fact that a good night's sleep enhances your natural beauty. And when you
upgrade your pillowcase
, your pillow could become your best esthetician and beauty therapist!
Silk and satin pillowcases
have been cherished for centuries for their softness, smoothness, and unparalleled beauty benefits. It's a simple and effective upgrade that can transform the way you look and feel. Keep reading to learn more about the benefits of this smooth sidekick.
Bye-bye Bedhead:
Waking up to frizzy, unruly hair can be frustrating, but
the right pillowcase
can save the day and make a huge difference. Unlike regular cotton fabrics,
silk & satin
are incredibly gentle & smooth, reducing friction & preventing static electricity buildup. As a result, you'll bid farewell to bedhead and say hello to effortlessly gorgeous hair every morning.
Say No to Split Ends:
No one wants damaged or split ends and a
silk or satin pillowcase
can be your perfect safeguard. Ordinary cotton fabrics pillowcases can cause hair to snag and tangle, leading to split ends over time. With its ultra-smooth surface, a
silk or satin pillowcase
allows your hair to glide effortlessly as you move during sleep. By minimizing friction, your strands remain free from snags, frizz, tangles, and breakage, promoting healthier and stronger hair that is easier to style.
Lock in Moisture:
Silk & satin
fabrics are not only gentle on your hair and skin but also helps retain its most vital asset – moisture. Unlike cotton, which tends to absorb moisture from your mane,
silk & satin pillowcases
allow your hair's natural oils to remain intact. This prevents dehydration and helps retain moisture, leaving your locks hydrated, soft, and supple. Even if you use leave-in conditioners or styling products, a
silk or satin pillowcase
ensures that the moisturizing benefits stay locked in overnight.
Your skin receives the same benefits. Unlike traditional cotton pillowcases,
silk & satin
helps your skin retain moisture, preventing dryness, and reducing the appearance of fine lines and wrinkles. Wake up with a refreshed, plump complexion every morning.
Not only does cotton soak up our natural hair & skin oils, it also steals the moisturizers, conditioners, and other products we put on our hair & skin. That's a bummer.
Gentle on All Hair Types:
No matter your hair type – curly, straight, natural, or treated or
no poo
, low poo, or full shampoo – a
silk or satin pillowcase
is for you. The smooth texture of silk is suitable for all hair types and helps maintain the integrity of your tresses, ensuring they look their best every day. Whether you're sporting natural curls or glossy, straight locks, a silk or satin pillowcase will become your secret weapon for maintaining healthy and beautiful hair.
Fine hair benefits from less breakage
Curly hair benefits from less frizz
Dry hair benefits from retaining moisture
Hypoallergenic:
Silk & satin
fabric has hypoallergenic properties make it less likely to cause irritation or trigger allergies than the cotton counterparts. Because cotton is more absorbent, it is more likely to have bacteria, fungus, and other microbes that can cause breakouts and aren't good for our hair & skin. The natural, breathable fabric allows for better air circulation, reducing the risk of clogged pores and breakouts. Wake up with calm, clear, smooth skin that looks and feels healthier.
Temperature Regulation:
Not only is a
silk or satin pillowcase
a treat for your hair & skin, but it also offers a luxurious sleeping experience.
Silk and satin
fabrics have temperature-regulating properties that keep you cool during warmer nights and cozy during chilly ones. Say goodbye to those sweaty, hot moments that disrupt your sleep and hello to a restful, uninterrupted slumber.
What to Look For in a Pillowcase:
Silk and satin
both have benefits for your hair and skin. It's mostly a personal preference which one you prefer.
Pin this article to save it for later!