Ashlee, The Crunchy Moose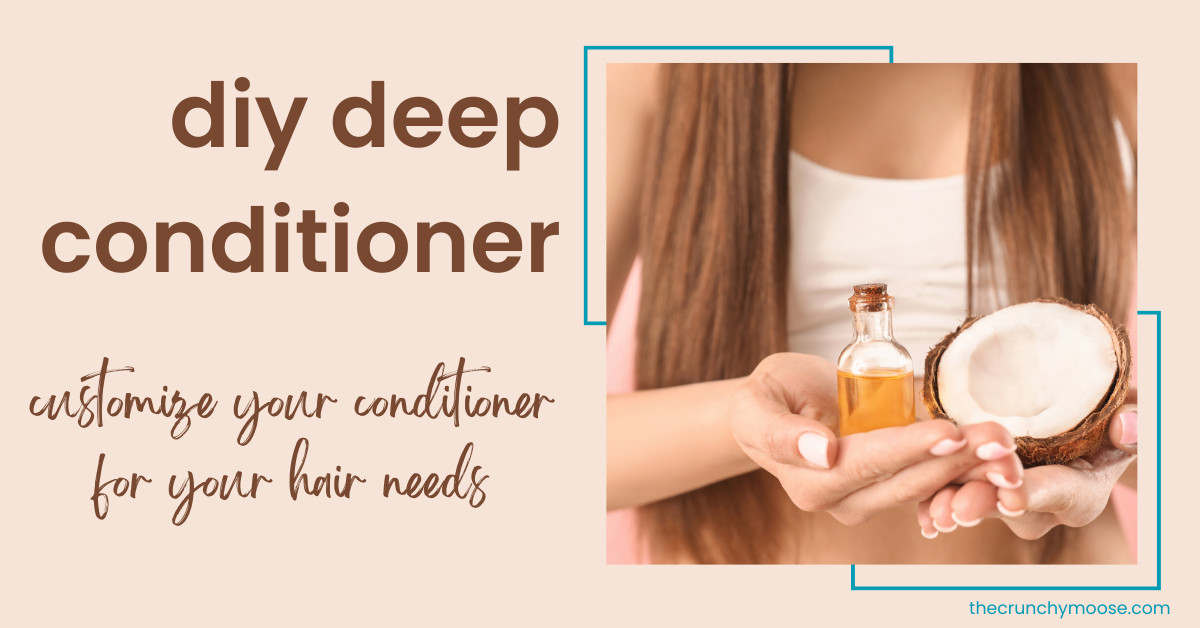 Deep conditioning is beneficial for all hair types and can enhance any hair care routine. You can create your own personalized deep conditioning mask and get crafty with ingredients you already have in your kitchen.
Deep Conditioning Ingredients
You can mix and match any of these ingredients. Have fun finding combos that your hair loves! Keep reading to get some recipes and inspiration. Here are some moisturizing ingredients that you can use (I know!! Some of these sound crazy! But don't knock it til you try it ;-) ):
Kefir (learn how to make it here)
Yogurt
Kombucha (learn how to make it here)
Egg (Egg adds protein to your hair. Too much protein can make it stiff & brittle. Avoid using egg too often. Always use cool water with an egg wash so you don't cook the egg in your hair.)
Beer
Tea
Avocado
Banana
Argan Oil - read about argan oil here
Essential Oils. My favorite essential oils for hair include:
How To Mix our Deep Conditioner
You'll want to use 1/4 cup to 1 cup total of ingredients depending on the thickness & length of your hair and the ingredients you're using.
Limit oil to 1 teaspoon to 2 tablespoons, if using. The longer & thicker your hair, the more you can use. A little oil goes a long way and the more you use, the harder it is to get out of your hair.
Use about 5-10 drops of essential oil, if using. You can mix the essential oils you use.
You can mix any of the ingredients you want! It's a fun and safe science experiment for you hair!
How Long To Leave Your Deep Conditioner In Your Hair
For most recipes, 15-30 minutes is enough to condition your hair. Some recipes you can leave in overnight (obviously not eggs, bananas, or avocados ;-) ). However, for some hair types, leaving conditioner in for more than 30 minutes will weigh it down and result in less volume.
Rinsing Out Your Deep Conditioner
Depending on what you use to condition, you may be able to wash it out with just water or your shampoo. If it's hard to get out of your hair, you can use
baking soda
, clay (
bentonite
or
red
), egg wash, or
soap nuts
to remove the conditioner (see this page for info on each of those options). An egg wash is my favorite way to get deep conditioners out of my hair.
Tips
Brush / comb your hair before application so it's tangle free.
Apply the deep conditioner to the hair shaft. Avoid applying the conditioner directly to your scalp unless you are addressing dry scalp / scalp health issues.
Comb the conditioner through your hair.
You can use a shower cap if desired.
How Often Should I Deep Condition?
How often you deep condition is up to you. For best results, deep condition 1-4 times per month.
Deep Conditioner Recipes
Here are some combos that I love using. Adjust the quantities for your hair thickness and length. These quantities are for about shoulder length hair with average thickness.
Final Thoughts
You have lots of ingredients in your pantry right now that will moisturize your hair! So hop up right now, grab a bowl, mix up a few things, and make some magic happen with your hair! Have fun!